According to the International Organization for Migration, approximately 200,000 skilled and unskilled workers migrate from Sri Lanka to destinations across the Middle East (80%), Europe, Japan, Korea and more annually. There are roughly over two million Sri Lankan migrant workers presently employed across the world.
When will this Pandemic End?
With the Delta and Omicron strains of the Coronavirus somewhat overcome through the application of the booster vaccination, the Covid-19 Pandemic looks to be ending as of 2022.
This of course only applies to countries that have provided roughly over 80% of their adult population with a first dose, second dose and a booster.
The nature of this current pandemic is fluid and subject to frequent change and the possibility of newer more virulent strains emerging although greatly reduced, is still an obstacle in nations with low vaccination rates.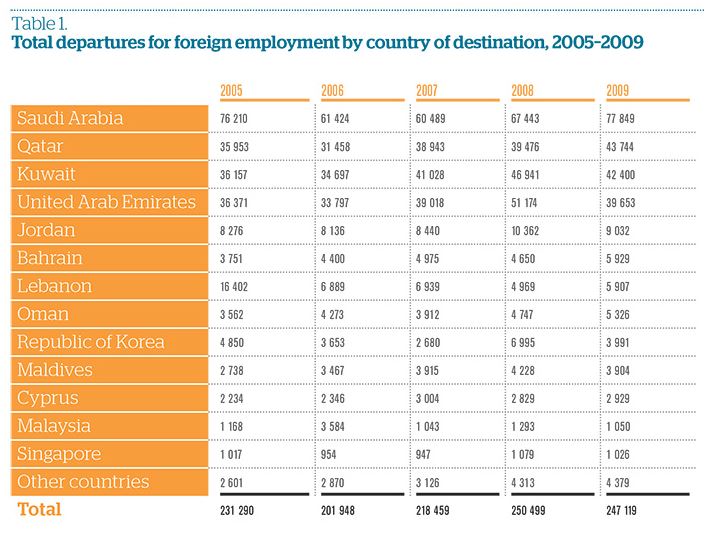 Increased Demand for Migrant Labour
As the world recovers and begins to slowly emerge from the Pandemic, the demand for unskilled workers continues to increase, especially in Gulf countries where Sri Lanka has a strong association as a destination for both skilled and unskilled migrant labour.
With the onset of the Covid-19 Pandemic, a majority of Sri Lankans working and already domiciled in the Gulf and other countries had to cut short their employment contracts and return to their homeland.
Today, with the easing of the Pandemic and related restrictions, once again the demand for both skilled and unskilled migrant labour is on the rise and there has never been a better time to consider migration for employment.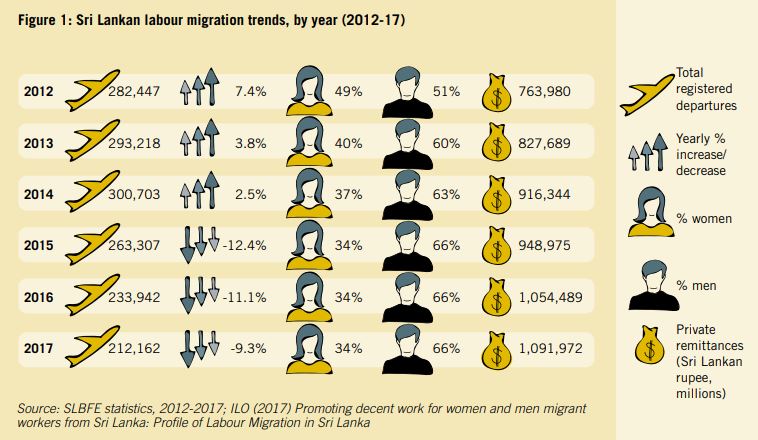 Beyond Domestic Aides
Although traditionally Sri Lankan migrant labour to the Gulf has been linked to domestic helpers and labourers, today, especially the hospitality and leisure sectors are seeking those with skills to join them, driven by the increased demand and appetite for travel from those who had to experience numerous lockdowns and travel restrictions.
The most common reasons for migration are broadly categorised as:
For Settlement Purposes – Most often skilled individuals
For Economic Reasons – Most often skilled, semi-skilled and low-skilled individuals
For Educational Reasons – Most often for undergraduate and postgraduate studies
For Political Reasons – Most often as refugees or asylum seekers
What Skills do you Need ?
For those considering skilled migration for employment in the Gulf, the hospitality industry requires all levels of staff from chefs and receptionists to customer service professionals and hoteliers.
Those considering acquiring new skills or updating their existing skills must closely observe the demand for their chosen profession and then focus on obtaining those skills alongside relevant work experience.
Given the increasingly competitive nature of the present migratory labour market in addition to the required skills and experience, having knowledge of another language is sure to give candidates an edge over other job applicants.
Overall, Sri Lankan labour migration trends show that the majority of migrants tend to be semi-skilled and low-skilled workers. Obtaining a job in a foreign country can not only provide a meaningful income, it can also be the first stepping stone to permanent migration.
However before considering applying for an overseas job make sure to analyse your career path, goals and plans so they can be maximised in order to benefit.
Where can I find such foreign job vacancies?
Online employment platforms are the easiest and most convenient method to find overseas jobs. Especially as foreign employers are far less likely to advertise in local newspapers, going online is the best option to finding your next dream job.
Find Your Dream Job
DreamJobs.lk by Elegant Media is Sri Lanka's leading destination to find the most suitable and matching jobs and vacancies, recently announced its acquisition of two popular job hunting websites, as part of its aggressive expansion to better cater to the growing and fast-evolving technology-driven job market; at the same time, strengthening its status as Sri Lanka's largest online job-hunting portal and recruitment platform.
DreamJobs.lk has a database of over 300,000 registered job seekers, each with a specific skill set and in addition, partners with over 2,500 employers in order to showcase the best jobs for the best talent; making it the natural choice for job seekers of all backgrounds, searching for both local and foreign job vacancies.
Dreamjobs offers the best online job vacancies in Sri Lanka and overseas making it the most popular job site in Sri Lanka with a unique social media marketing system to attract the best employers and job seekers, together in one place.